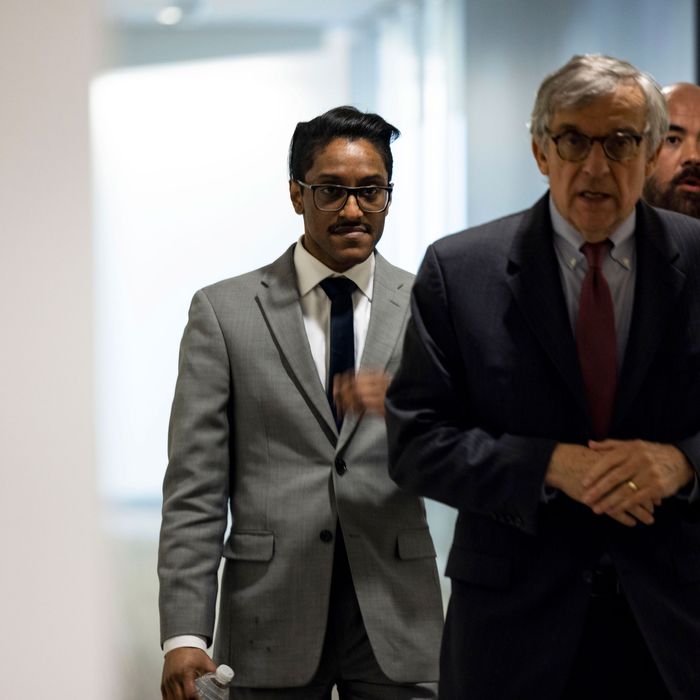 Ali Alexander, left.
Photo: Anna Moneymaker/Getty Images
Over the past month or so, the far right has been embroiled in a scandal involving the alleged grooming practices that its loudest voices have claimed are rampant among liberals. According to two accusers who have come forward, Stop the Steal founder Ali Alexander allegedly came on to them when they were teenage boys, asking for nudes from a 17-year-old and pressuring a 15-year-old to have sex with him.
For those of us who don't have a mental Rolodex of the movers and shakers of the far right, Alexander is the founder of the campaign to push the conspiracy that Donald Trump was the actual winner of the 2020 election, and he hosted a rally outside the Capitol on January 6, 2021, that fed the subsequent riot. Alexander's problems first emerged in March, when fellow far-right activist Milo Yiannopoulos aired interviews on his podcast detailing Alexander's alleged practice of propositioning minors for sex. Yiannopoulos, whose own career was derailed years ago because of old videos purportedly condoning pedophilia, was frustrated that Alexander and white nationalist Nick Fuentes had booted him from Kanye West's camp.
In one of the interviews, a young man named Aidan Duncan described how Alexander had allegedly solicited nude pictures from him when Duncan was 15 and Alexander was 32. He claimed Alexander had promised to share his "entire network" with Duncan if he kept their situation secret. "Boundaries are cool," Alexander wrote, according to a screenshot of a text conversation obtained by The Daily Beast. "Allowed to say no. However, the less you deprive me of, the less I deprive you of." But by May 2019, Alexander was annoyed that Duncan would never send him "good jack off material," according to another screenshot.
"When I was 15 I was naive and desperate," Duncan tweeted last week. "I thought I had no choice but to cooperate with inappropriate and humiliating requests if I wanted to make it in politics. I figured that was just the nature of the game."
Months after Alexander appears to have grown tired of Duncan, he began texting Lance Johnston, then a 17-year-old conservative influencer on TikTok. Johnston told The Daily Beast that Alexander had moved "oddly quickly" toward discussions about sex. In July 2019, the 34-year-old Alexander texted Johnston for nude pictures, according to screenshots:
Alexander: "Show me ur [eggplant emoji] "

Johnston: "What's that?"

Alexander: "Omg dick"
With Alexander's alleged practices in the spotlight, his friend Fuentes is facing criticism for allegedly trying to cover for him. In an appearance on white supremacist Richard Spencer's podcast, Duncan said he believed Fuentes had been "100 percent aware" of the alleged solicitation but had done nothing about it. Johnston told The Daily Beast that Fuentes had asked him to apologize to Alexander and claim the eggplant-emoji screenshot had been doctored. "Nick personally asked me to apologize to Ali for supposedly faking the messages," Johnston said. (Fuentes denies the allegation.) And according to texts reviewed by The Daily BeastYiannopoulos warned Fuentes about Alexander in January 2022. "Alexander wants to come to your events to have sex with underage boys," he texted Fuentes. "Snap out of it."
As the far-right picked its sides in the scandal, Alexander issued an apology on Friday night beginning with a strange intro: "This is too gay." He acknowledged he had been struggling with "SSA," a conservative Christian acronym for "same-sex attraction." He did not deny the allegations but apologized "for any inappropriate messages sent over the years," adding, "When I've flirted or others have flirted with me, I've flexed my credentials or dropped corny pick up lines. Other times, I've been careless and should've qualified those coming up to me's [sic] identities during flirtatious banter at the start."